AUGUSTA—LifeFlight's founding medical director and one of its long-serving base managers were honored by Maine Emergency Medical Services, part of the state's Department of Public Safety, during the annual EMS Awards Ceremony in the Hall of Flags at the State House in Augusta. Dr. Norm Dinerman was given a Lifetime Achievement Award for his tireless dedication to improving the statewide EMS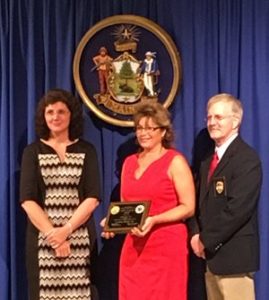 system. Flight Nurse Lori Metayer, who served for several years as LifeFlight's Lewiston Base Manager, received the EMS Excellence Award for her involvement in developing the LifeFlight system and expanding public education around the state's EMS network.
Dr. Dinerman, an emergency physician from Colorado, moved to Maine in the late 80s. He served as chief of emergency medicine at Eastern Maine Medical Center for 18 years, was the medical director for the Glenburn Hudson volunteer ambulance service, and helped to start LifeFlight of Maine. He has served as LifeFlight's medical director since the organization began in 1998. From 1992-1996, Dr. Dinerman served as Maine EMS Medical Director where he helped to develop many core elements of the current EMS system, including standardized statewide EMS protocols and the creation of the statewide Trauma Advisory Committee. Currently, Dr. Dinerman practices clinically as an emergency medicine physician at EMMC where he also serves as the medical director of the Transfer Center, the Tele-Health program and the Regional Health Care Partnership Provider Relations program.
"I'm so very deeply honored and humbled by this award," said Dr. Dinerman. "I'm incredibly grateful to Maine EMS and Eastern Maine Medical Center and LifeFlight for providing me a venue to do meaningful work and express my creativity in my chosen profession."
Lori Metayer holds a bachelor's degree in nursing, a master's degree in health care administration and is licensed as a paramedic and critical care flight nurse/paramedic. She managed LifeFlight's Lewiston base and has served on the Board of Maine EMS and the Tri-County EMS Board for several years.
Outside of Maine, Lori is a member of the Association of Critical Care Transport and serves on that organization's public relations committee. Lori also works with a team of healthcare providers, led by interventional cardiologist Mark Lanzieri, MD, to perform lifesaving cardiac procedures at a clinic in Grenada. With her training and skills, and her ability to work under challenging conditions, Lori is uniquely qualified to render emergency care to patients in need whether in an ambulance, on a helicopter, in the emergency department or the ICU.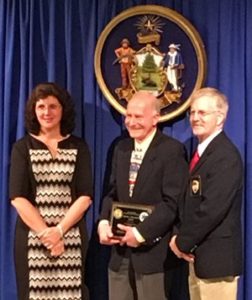 "I'm incredibly grateful to have Norm and Lori on our team," said Thomas Judge, LifeFlight of Maine Executive Director. "They both have shown unflagging commitment to establishing LifeFlight as an internationally recognized organization that holds the best interests of the people of Maine as its most important mission. Maine EMS has chosen two very deserving individuals. Congratulations to them both."
LifeFlight of Maine is an independent 501(c)(3) non-profit air medical and critical care transport organization. LifeFlight brings lifesaving critical care staff and equipment directly to the patient via helicopter, airplane and ground ambulance. It also provides advanced emergency medical training to Maine's hospitals, emergency medical services (EMS) and public safety agencies. Overseen by 25 physicians, LifeFlight cared for more than 1,600 critically ill and injured patients last year. Since its inception in 1998, LifeFlight has transported more than 20,000 patients from every hospital and nearly all of Maine's communities and islands.