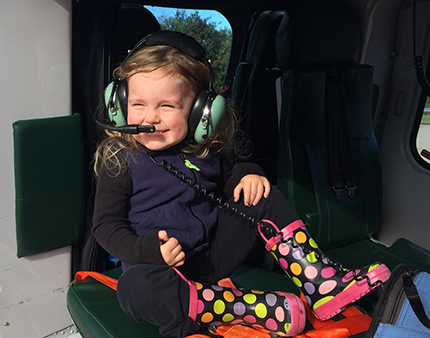 Two-year-old Allie had been fighting off pneumonia for a few days. After a round of antibiotics, she went to her pediatrician for a follow up visit. There they discovered Allie's oxygen level was dangerously low, her breathing was shallow and her fever was still too high.
Recognizing the possible seriousness of the situation, her doctor called for an ambulance to take her directly to MaineGeneral, where an x-ray revealed that her left lung had partially collapsed. Her condition was especially tenuous because she was so young.
Often, kids can compensate far longer than adults, but that also means they don't experience a gradual decline. MaineGeneral's emergency medical team realized just how quickly Allie's condition could deteriorate, making LifeFlight the best choice to transport her to Eastern Maine Medical Center where she could be treated by pediatric intensivists.
During the helicopter transport, flight nurse Sam Schaab and medic Lori Metayer were able to continue providing Allie with the high level of oxygen she needed and also gave her special medication to help ease her breathing. Perhaps most importantly for Allie, they were able to get her to EMMC in less than 30 minutes. Along the way, they offered calm, supportive words to Allie's parents and made sure they understood what was happening and what was next for their little girl.
The pediatric specialists at EMMC were waiting for Allie when the helicopter landed. They took her to the pediatric intensive care unit, got her settled in and started administering powerful antibiotics through an IV. She quickly began to recover and left the hospital after only two days. Today, Allie's back to her lively self, dancing around the house or swimming at the family's camp on Moosehead Lake.