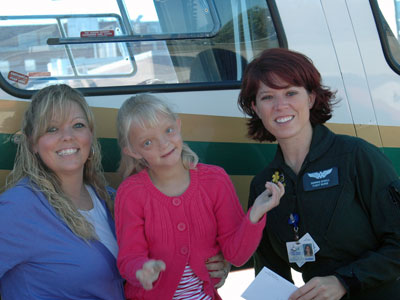 Ten-year-old Lauren Elliott captures your attention with the unique features of her rare genetic disorder, Wolf-Hirschhorn Syndrome. But she captures your heart with her warm smile and energetic spirit. This happy little girl lives with her parents, Rob and Heidi, in Strong where she attends public elementary school, and goes on a lot of family camping trips.
Sometimes, Lauren's syndrome can cause severe seizures that block her airway and make it nearly impossible for her to breathe. This has happened three times in the last 10 years, and all three times Lauren has been hours away from her specialists in Portland, making it necessary to call for LifeFlight of Maine to transport her to Maine Medical Center. The flight crew is able to give her medication to make her more comfortable, and secure her airway until she reaches MMC.
"It's a very frightening experience when your child is in distress," explains Heidi. "But when the LifeFlight crew arrives, I feel like I can relax a little. I know she is in good hands."
Lauren's dad, Rob, continues, "After the first time Lauren was transported we realized how important LifeFlight is to Maine, and that our daughter might not be here today if not for the helicopter and its crew. And after her third trip, we wanted to do something to give back to the organization that helped save Lauren."
On Lauren's 10th birthday, instead of collecting gifts, the Elliotts collected donations from family and friends and were able to make a generous gift to LifeFlight. Because LifeFlight is a non-profit organization that serves everyone in Maine, regardless of their financial or insurance status, it cannot survive without the support of foundations, corporations and individuals.