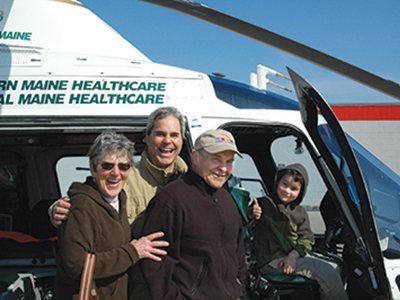 Rhode Island native Roland Bois and his wife, Maria, have been skiing at Sugarloaf since 1964. Now retired, they take full advantage of Maine's long winter season, skiing most every day and even working as ski instructors at the mountain. One December morning as Roland headed to the lodge to meet his class of students, he felt the first symptoms of a heart attack.
As fellow staff members called for an ambulance and helped him out of his ski clothes, Roland went into full cardiac arrest. Because victims of cardiac arrest have a much better chance of recovery if they are treated by specialists within 90 minutes, the ambulance crew had called for LifeFlight before they even arrived at the base lodge. Travel time from Sugarloaf to the nearest cardiac specialists at Central Maine Medical Center in Lewiston over unpredictable winter roads is at least two hours. The trip by helicopter is less than a quarter of that time.
When the LifeFlight crew arrived at the Carrabassett airport to meet the ambulance crew, they made adjustments to Roland's pacemaker, gave him the appropriate medications and activated the cath lab at CMMC so specialists could begin preparing for Roland's arrival.
Just after the helicopter lifted off and flew over the mountain, Roland's heart stopped and he quit breathing. After a few short but very tense minutes, the nurse and medic on board were able to re-start his heart and place a breathing tube to make sure he received the oxygen he needed. When he arrived at CMMC, the cardiac team initiated therapeutic hypothermia, a process where the body is kept in an abnormally cool state allowing muscles to recover without doing further damage.
By the time Maria made the two-hour drive by car to CMMC, the cardiac specialists had already placed a stent in Roland's heart and he was in recovery. After a short stint in cardiac rehab, Roland was back on the slopes just six weeks after his heart attack.
CREW MEMBERS
CommSpec Jonathan Roebuck
Pilot Dave Beaulieu
Nurse Steve Babin
Paramedic Pete Allen