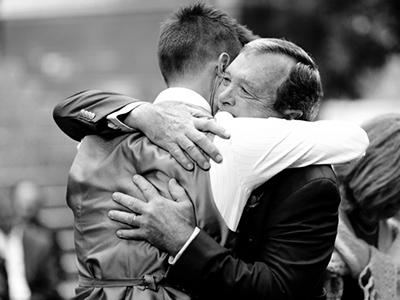 David and Sally Wylie spent most of their careers in the Boston area with their two children, but fell in love with the people and pace of Vinalhaven. After 20 years as summer residents, they retired to the island community a few years ago.
One chilly fall morning, David started to experience some troubling symptoms. His chest felt sore, he was sweating profusely, felt dizzy and soon had intestinal cramps. Sally called the island medical center for advice, and they recommended David come in so they could evaluate him. By the time they drove the five miles to the medical center, the pain in David's chest was getting worse. The medical staff hooked him right up to an ECG. The results showed he was having a heart attack.
Remote island communities rely on LifeFlight for many emergency medical needs, with heart attacks topping the list. Because it's critical for cardiac patients to receive specialized care as quickly as possible, the LifeFlight helicopter is often the best option for transport. As soon as the island medical providers realized David was having a heart attack, they called for LifeFlight. Less than an hour after his first symptoms, David was aloft and headed to Central Maine Medical Center in Lewiston, which is about a 25-minute flight.
As part of the well-established process, the crew activated the cardiac intervention lab in flight, and specialists at CMMC were waiting for David the moment he landed. He was taken directly to the catheterization lab where he received several stents.
"My cardiologist credited the speed of getting me there to my having avoided virtually any permanent damage to my heart and probably in saving my life," recalls David. "And meanwhile, I was able to take a helicopter ride off my bucket list!"
David and Sally also speak highly of the professionalism and dedication of the LifeFlight crew, including several visits from Flight Medic Dave White while David was in recovery at CMMC.
Just a few days after his heart attack, David was able to travel to Boston for his son's wedding and offer a heartfelt toast.