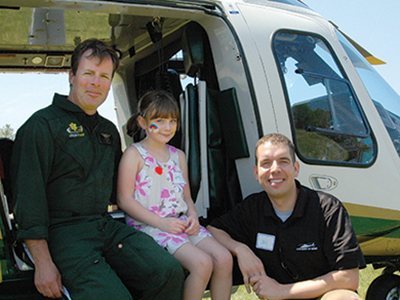 The first thing you notice about first grader Sophie Nelson is the sparkle in her eye, hinting at the warm spirit and infectious energy that quickly becomes obvious after spending a few minutes with her. One cold January morning in 2012, Sophie's parents, Guy and Melissa, feared they would never see that sparkle again.
Sophie was critically injured when she was struck by a bus, rolling under the vehicle as it moved forward without seeing her. Her father saw her on the ground and ran out to help. An ambulance arrived quickly and brought Sophie to the emergency department at Penobscot Valley Hospital where physicians recognized the seriousness of her injuries and immediately called for LifeFlight.
When the flight crew arrived, they found Sophie awake but suffering from multiple serious injuries. She had a broken femur, fractured skull, severe lacerations on her head, fractured neck, fractured elbow and contusions on her lungs. She was in a lot of pain and had gone into shock. The crew gave her fluids and medication to treat the pain, shock and internal bleeding from her leg and abdomen. During the 14-minute flight back to Eastern Maine Medical Center, the continually assessed Sophie's condition to ensure they were treating her appropriately.
Sophie spent 14 days at EMMC recuperating from her injuries and then returned home to continue the recovery process. She slowly regained her strength and with a strong determination to get back outside, she learned how to walk again.
Throughout her long recovery, Sophie's enthusiastic spirit and unique sense of humor were often evident. She greeted most visitors with comments like, "You should always listen to your mom and wear clean underwear because you never know when you will be hit by a bus!"
She received her last surgery about seven months after the accident, and was very excited that she could return to her friends and classmates at school in the fall of 2012. Understandably, the accident has left an impression on young Sophie. She has decided to start volunteering at EMMC, helping the pediatric patients with arts and crafts activities. And, with her mother's help, she's writing a children's book called The Broken Princess, aimed at helping other kids get through tough situations without feeling alone or different.
CREW MEMBERS
CommSpec Terri Smith
Pilot Alan West
Nurse Jay Fonseca
Medic Carl Zenk