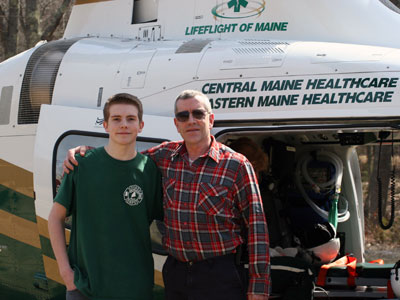 Paul Bonyun, 59, has been ribbed about his name for as long as he can remember. He points out that his surname is spelled and pronounced differently ("Bun-yawn") than that of the mythical giant lumberjack ­­– but these details often fail to suppress the chuckles. Paul doesn't mind; in fact, he plays along. The license plate on his pickup truck reads: Blu Ox.
Even news editors apparently can't stifle silly responses to Paul's name. When he was injured in a woodcutting accident early on January 2, 2006, near his home in Westport, the story made national news. He says the accident was reported at least as far away as California. He also says his rescue and recovery are a "miracle."
On a woodlot perhaps a mile from his home, Paul had spotted an oak tree ready to be cut for firewood. He rode his four-wheeler to the lot and prepared to slice and dice the tree. "I went to cut the notch and that's all I can remember. I woke up 10 days later in Lewiston. I had been in a coma for eight days," he says. Paul learned later that a large, dead branch broke from the tree when he started to cut, catching him squarely in the head. He sustained a fractured skull, left orbital fracture and a serious lateral fracture.
Amazingly, Paul walked from the woodlot to his home, where he virtually collapsed. Brenda, his wife, yelled to their sons for help. She called 911 while the boys saw to Paul's care. Not long before the accident, Paul and his youngest son, Caleb, who was 17 at the time, completed a first responder course.
While Caleb tended his father, 21-year-old Nathan talked by phone with Wiscasset Ambulance Service. From the description of the injury, the crew decided that LifeFlight should be called. This assessment was proven correct when Paul was gripped by a seizure just as the ambulance arrived. "They tried to tube me. They couldn't do it. Luckily, that's when LifeFlight landed only a couple hundred feet from the house in a nearby field. The field is a landing zone for the south end of the island," Paul explained.
The Wiscasset crew had an IV started when flight nurse Martin Blaney and flight paramedic Bob Johnson arrived on the scene, providing quick access to administer an anti-seizure medication. As the rescuers moved Paul to the helicopter, the first responders "bagged" him to help keep up his oxygen levels. Paul was loaded into the aircraft and pilot John Scanlon set a course for Central Maine Medical Center.
Only six months after the accident, Paul Bunyun had resumed a relatively "normal" life. After the acute phase of his injuries had passed, he spent just a week at Central Maine Medical Center's Central Maine Rehabilitation Center before being discharged home.
"The doctors didn't think I'd live," Paul said. "They've been amazed by the way I came out of this. I'm not an organized-religion person, but I think this is a miracle. Everyone did an incredible job, especially Caleb. He told me, 'I put the dad part out of it and did what I had to do.' It's absolutely amazing what he did. Brenda and Nathan kicked right in and did what they had to do."
He praises Wiscasset Ambulance Service, not only for coming to his aid so quickly, but also for their expert evaluation of the injury. "Once they called LifeFlight," Paul says, "they were down here in 10 minutes. Every little second made a difference."
CREW MEMBERS
CommSpec Cyndy Bradford
Pilot John Scanlon
Nurse Martin Blaney
Paramedic Bob Johnson