One Sunday morning last September, Bill Auger and his wife, Jo, headed out to walk their two border collies, Zipper and Snap. An active outdoorsman, Bill does a lot of hiking around his home in Oquossoc, a small town near Rangeley. He felt a little nauseous before he left, but on the walk he continued to feel worse, and soon began to feel pain in his chest.
More than 15 years earlier, Bill had experienced pressure in his chest and had to have an angioplasty, which revealed a 95% blocked artery. This time, however, the pain was completely different, and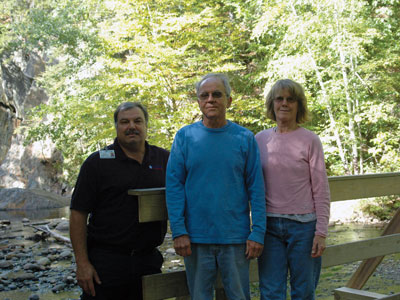 much more severe. He knew it was his heart, so as soon as he got home, he called 911.
The NorthStar ambulance arrived just a few minutes later and performed a 12-lead EKG to determine if Bill was experiencing a STEMI, a specific type of heart attack that requires treatment at a cardiac center. As soon as paramedic Carl Blondell saw it was a STEMI, he knew he needed LifeFlight of Maine to get Bill to a cardiac specialist as soon as possible. The crew moved Bill to the ambulance to meet LifeFlight at the nearest landing zone, which was about 12 miles down Route 4, just south of Smalls Falls.
The helicopter arrived about 30 minutes after the call, and the flight crew prepared him for transport directly to the Central Maine Heart and Vascular Institute in Lewiston. There, specialists quickly opened the blocked artery in his heart to restore blood flow, minimizing the damage done to Bill's heart.
Studies have shown that cardiac patients fare much better when they receive specialized treatment within 90 minutes of the onset of symptoms. The quick response from NorthStar, and the rapid transport by LifeFlight helped ensure Bill got to the care he needed, when he needed it. By the time Bill's wife arrived at the hospital, he had already been to the cath lab and was resting comfortably in his room.
After just 4 days of recovery and rehab at Central Maine Medical Center, Bill was able to return home, and then to Florida where he and his wife live for the winter. Today, he is back to his active lifestyle of hiking, biking, kayaking, alpine skiing and even a little clay shooting.