As the sun came up over Penobscot Bay on Saturday, August 17, thirty-eight intrepid swimmers and their paddler escorts strode into the water at Ducktrap Beach to swim the 3.1 miles from Lincolnville to Islesboro. This inspiring and powerful event was an effort to raise funds and awareness for LifeFlight of Maine, and saw the shores of Islesboro lined with well-wishers cheering the swimmers to the finish. With more than $23,000 raised to date, it is fair to say that the first Islesboro Crossing event was a success.

One of the themes of the Crossing was that 'we are all in this together.' Nothing highlighted that sentiment more than the incredible support provided by individuals and organizations who pitched in to help, all for free. On behalf of LifeFlight of Maine and the LifeFlight Foundation, we'd like to thank:
Capital Ambulance; Northeast Ambulance; Islesboro EMS; Islesboro Public Safety; Camden Fire Department; the towns of Islesboro and Lincolnville; the United States Coast Guard; the Maine Marine Patrol; the Maine State Ferry Service; course boat owners and crew Ann Montgomery, Peter Clapp, Ben Wolcott, Justin Ford, Flint Decker, Chris Gilray, Mike Davis, Peter Berke, Henry Haselton, George Haselton, and Sarah Hatfield; All Aboard Trolley & Limo; Courier Publications; Maine magazine; Penobscot Bay and Bangor Area YMCAs; Hannaford; Waldo County Emergency Management; the Camden Snow Bowl; Andrew Kahrl and the Quicksilver, Cleanwoods, the Boardman Cottage, Islesboro Sporting Club, Elise Brown; Sally Smith; Deidre Dority; Allie Wood; Mark Munger; Kate Bourne; Scott Arndt; Owen Howell, Jennifer Whyte, Mary Hauprich, Melissa Cushman, Will Schoppee, Jazmyne Schoppee, Hanna Wood-Krusell, Nancy Krusell, Andrew Coombs, Mark Craig, Don Johnson, Dr. Norman Dinerman; all the experienced swimmers and event organizers who patiently consulted and advised; and of course our swimmers and paddlers who challenged themselves in support of this vital service.
While the 2013 iteration of the swim is over, there is still time to donate, either in recognition of these swimmers or in support of LifeFlight's ongoing operations. Giving is easy: simply visit the website at www.lifeflightmaine.org. LifeFlight's vision for Maine is a place in which every person, in every community, has access to critical care and medical transport when they need it. Thanks to the efforts of the folks above- and thanks to your continued generosity- this vision can be realized every day.
We also thank our generous media sponsors:
On behalf of the Islesboro Crossin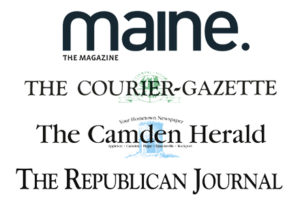 g organizing team,
Dan Bookham, Jessie Davis, Jay Fonseca, George Haselton and the LifeFlight Foundation staff
LifeFlight of Maine is an independent 501(c)(3) non-profit air medical and critical care transport organization. LifeFlight helicopters, flying at 165 miles per hour, bring lifesaving critical care staff and equipment directly to the patient. It also provides advanced emergency medical training to Maine's hospitals, emergency medical services (EMS) and public safety agencies. Overseen by 21 physicians, LifeFlight cared for more than 1,500 critically ill and injured patients in 2012. Since its inception in 1998, LifeFlight has transported more than 15,000 patients from every hospital and nearly all of Maine's communities and islands. If you would like to learn more about LifeFlight, like us on Facebook (search Lifeflight of Maine) or follow us on Twitter @LifeFlightMaine.