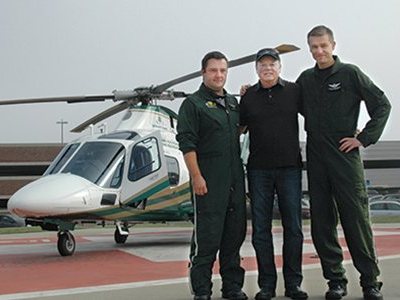 "For a split second, I thought I was going to make it by him. But then he turned right into me. I can still remember the smell of his fur."
These were Neil Bryson's last thoughts before he slammed into a moose while cruising up Route 26 along the Maine/New Hampshire border on his Ducati motorcycle.
Neil, a Portland native, has spent his life working for the Coast Guard. For the first 22 years, he was on active duty, traveling the world maintaining Long Range Navigation (LORAN), the predecessor to today's GPS. For the last 22 years, he's worked as a civilian, in charge of the Coast Guard Electronic Systems Support Detachment (ESD) South Portland supporting Coast Guard assets in northern New England. For nearly all of that time, Neil has been passionate about riding his motorcycle.
The next thing Neil remembers is waking up cold and wet and struggling to breathe. Neil's motorcycle had slid right under the moose, leaving his body to take the brunt of the collision with the massive animal. The impact broke the moose's neck, killing it instantly and throwing Neil into a stream bed more than 50 feet from the roadway.
It was almost an hour before a New Hampshire state trooper came upon the scene and found Neil, still conscious and still struggling to catch his breath. The call to 911 was made, setting in motion a variety of EMS agencies.
The Fire Department and an EMT from Errol responded first, requesting help from neighboring 45th Parallel EMS who sent more EMTs including a paramedic. Because the scene was in a very remote section of New Hampshire, the dispatcher automatically called for the emergency medical helicopters at Dartmouth-Hitchcock. Unfortunately, their aircraft were already busy, so LifeFlight of Maine was called to provide mutual assistance.
The established landing zone was about 10 miles away from the scene, but so much time had already passed, LifeFlight pilot Karl Hatlemark made the decision to try and find a closer spot to land. He found a clearcut just a few hundred yards away from Neil and put the aircraft down. The flight crew hustled over to the scene where the local EMTs were putting Neil into the back of the ambulance. LifeFlight assessed Neil's injuries, including a punctured lung, and realized they would need to place a breathing tube before transporting him back to Central Maine Medical Center.
The trauma specialists at CMMC discovered Neil had fractured 6 ribs, punctured his lung, lacerated his liver and spleen, suffered a concussion and a detached clavicle. In all, Neil spent 21 days in the hospital, most of it in the Intensive Care Unit. He lost 31 pounds in the first 11 days.
When he recalls the ordeal, he's emphatic: "LifeFlight saved me. There's no doubt about it."
Trauma surgeon Carlo Gammiatoni, MD, agrees. "The LifeFlight crew did exactly what Neil needed at the time."
Thanks to his physical fitness and the appropriate care he received from the entire EMS system, Neil was back at work on a part time basis just five weeks after his accident. He was still in a lot of pain, but work was a good distraction. Today, Neil has returned to a normal life with his wife Terry, his four children and seven grandchildren. They do lots of hiking along Maine's recreational trails, and he's starting to think about getting a new motorcycle. It's like the old adage says, you've gotta get back on the bike.
CREW MEMBERS
CommSpec Brian Porter
Pilot Karl Hatlemark
Nurse Sabrina Gowell
Medic Jeremy Nadeau