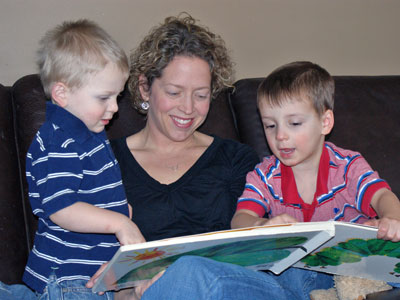 Two broken femurs. Broken tibia, humorous and ulna. Liver laceration. Spleen removed. Broken ribs, pelvis, tailbone and shoulder blade. To look at Melanie Lajoie today, walking and playing with her two young sons, it's hard to believe that just a few short months ago she arrived at Central Maine Medical Center's emergency room with so many broken bones and internal injuries.
Melanie's ordeal began one morning as she was headed to work as a speech therapist for schools in Palermo and Windsor. An oncoming vehicle crossed the center line and crashed into her minivan. Windsor Fire Department responded to the accident and began the long process of getting both Melanie and the other driver out of their badly damaged vehicles. It was immediately clear that both victims were severely injured, so while the firefighters worked, local medics requested help from both of the LifeFlight helicopters.
When the LifeFlight crew arrived, Melanie had just been freed from the wreckage and medics were working to stabilize her. The flight crew started an IV, placed a breathing tube and began transfusing blood. With so many traumatic injuries, Melanie was losing a lot of blood very quickly. Though it was only a 15-minute flight to the trauma center in Lewiston, Melanie was bleeding so badly that she needed two units of blood before she even arrived at CMMC. Once she was at the hospital, trauma surgeons immediately began repairing her injured organs and broken bones.
After 25 hours of surgeries, three rods, two plates, 17 days at CMMC and two weeks in rehab, Melanie was finally able to return home to continue her recovery surrounded by a large support group of family and friends. In her own words, "People were just amazing. It gives you hope in mankind."
The thousands of well wishes and words of encouragement on Melanie's Facebook page are a testament to this community of support. Recently, someone posted a quote by Helen Keller which seems to exemplify this inspirational story of triumph: "Character cannot be developed in ease and quiet. Only through experience of trial and suffering can the soul be strengthened, ambition inspired, and success achieved."