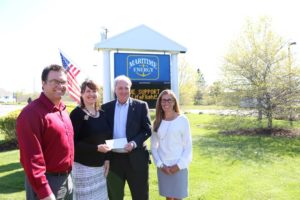 KNOX, LINCOLN and WALDO COUNTIES—Maritime Energy/Farms raised more than $20,000 for LifeFlight of Maine with their Penny for Life campaign, which ran through the months of March and April. During the campaign, the company pledged to donate 1¢ from every gallon of gasoline sold at Maritime Farms locations to the state's only emergency medical helicopter service.
The gift will be used to help purchase LifeFlight's third helicopter. The organization is in the last phase of its fundraising campaign, and after a final push this summer, the new helicopter is expected to go into service later this year.
"So far, we've raised about $5.4 million for a third helicopter to serve the people of Maine," said LifeFlight Executive Director Thomas Judge. "Maritime's generous gift helps us move even closer to the $6 million needed to purchase the aircraft. Every donation, literally every penny, helps ensure the people of Maine get the helicopter they need. We couldn't do it without the support of community-minded businesses like Maritime Energy/Farms."
"With our customers' support, we raised $21,177.21 for LifeFlight," said Maritime President Susan Ware Page. "We're so fortunate to have LifeFlight, a first-class air medical organization, in Maine. Their medical skills and specialized equipment have been a big benefit to Maine people, and we're honored to help support the campaign for a much-needed third helicopter. Thank you to our wonderful customers who made this possible."
Throughout the summer, LifeFlight will continue to fundraise for the remaining cost of the project, which includes funding to create and staff the base of operations for the new helicopter. The new base will also give a boost to the local economy, providing about 20 new clinical jobs and handful of aviation-related jobs.
The third helicopter is a vital addition to Maine's current fleet of two helicopters, one airplane and dedicated ground ambulances. On average, LifeFlight's aircraft fly 800-900 hours per year, nearly 4 times the average number of hours flown by other medical helicopters across the country. And the number of requests for critical care transport continues to grow steadily. The most efficient way to answer all of the calls for help is to add both a fixed wing airplane, as well as a third helicopter. An airplane was purchased and put into service in 2015.
Once the funding goal for the third helicopter is reached and the aircraft is purchased, LifeFlight is planning to hold a community event to celebrate with everyone who helped make it a reality.
LifeFlight of Maine is an independent 501(c)(3) non-profit air medical and critical care transport organization. LifeFlight brings lifesaving critical care staff and equipment directly to the patient via helicopter, airplane and ground ambulance. It also provides advanced emergency medical training to Maine's hospitals, emergency medical services (EMS) and public safety agencies. Overseen by 25 physicians, LifeFlight cared for more than 1,600 critically ill and injured patients last year. Since its inception in 1998, LifeFlight has transported more than 20,000 patients from every hospital and nearly all of Maine's communities and islands.