On Tuesday, May 9, at a little after 3 o'clock in the afternoon, Maine's newest emergency medical helicopter flew over the bridge in Kittery and crossed into the state for the first time.
The number of requests for LifeFlight's service has been rapidly increasing over the last several years, making it clear that in order to care for everyone who needed us, LifeFlight required more aircraft. In 2015, a fixed wing airplane was added to the fleet and now, a third helicopter.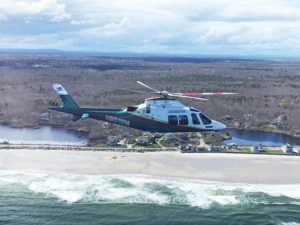 As a nonprofit organization, LifeFlight relies almost entirely on private donations to purchase aircraft and specialized equipment. This new helicopter is the result of 692 individual donors who gave nearly $6 million to purchase it. Thanks to the generosity of these Mainers, LifeFlight can care for hundreds of additional patients every year.
The new aircraft, whose tail number is N901WM (Whiskey Mike in the aviation community), is an Augusta 109 GrandNew and features the latest global navigation satellite system, making it compatible with changes the FAA is implementing over the next several years. It's faster, more powerful and can carry more weight than LifeFlight's existing two helicopters. In addition, the interior has been designed to accommodate the next generation of care—medicine that is still on the horizon.
After a few days of crew training, LifeFlight brought Whiskey Mike to Port Clyde for its official christening. Back in 2014, well-known Mainer Linda Bean and her Bean Maine Lobster family gave $3 million toward the new helicopter, giving her the honor of naming the aircraft. On the evening of May 13, in a quiet field in Port Clyde, one of Maine's quintessential lobstering communities, a small logo was added to the aircraft and local minister Randall Thissell blessed the helicopter with a heartfelt prayer. Less than an hour later, N901WM, now dubbed the "lobster chopper," was dispatched to western Maine for its first patient transport.
Earlier this month, as N901WM was making its way to Maine, we asked elementary school children across the state to draw a picture of Whiskey Mike and share it on Facebook. The school whose drawing collected the most "likes" would win a visit from the new helicopter. After more than 50 clever and creative drawings were posted, Woolwich Central School was declared the winner. Whiskey Mike landed on the athletic fields at the school on May 23 where students from pre-K to 8th grade got an up-close-and-personal look at Maine's newest helicopter.
The next public tour of Maine's newest helicopter is scheduled for Friday, June 9 at 12 noon at the aircraft's home base, Central Maine Medical Center in Lewiston. Everyone is invited to celebrate with the crew and learn more about what makes Whiskey Mike the safest, most reliable helicopter in Maine.
N901WM will also make an appearance at the Down East Lobster Roll Festival slated for Saturday, July 8 at Thompson's Point in Portland. The festival runs from noon to 5pm, and the helicopter will be there from 4pm to 5pm. LifeFlight, together with Down East Magazine, is also hosting a ticketed "Healers in the Sky" VIP celebration right after the festival, from 5pm to 7pm.  This special event will feature gourmet food, cocktails, stories of survival and second chances, and even a chance to win an aerial tour of Portland in the new aircraft. Learn more at downeast.com/healers-in-the-sky-celebration/.
LifeFlight of Maine is an independent 501(c)(3) non-profit air medical and critical care transport organization. LifeFlight brings lifesaving critical care staff and equipment directly to the patient by helicopter, airplane and ground ambulance. It also provides advanced emergency medical training to Maine's hospitals, emergency medical services (EMS) and public safety agencies. Overseen by 25 physicians, LifeFlight cared for nearly 1,800 critically ill and injured patients last year. Since its inception in 1998, LifeFlight has transported more than 22,000 patients from every hospital and nearly all of Maine's communities and islands. If you would like to learn more about LifeFlight call 207-230-7092.