As a Next Step Maine Employer engaged in Maine Development Foundation's statewide Employers' Initiative working to advance the skills and education of Maine's workforce, LifeFlight of Maine participated in the fourth annual Next Step Maine Employees of Promise Scholarship Program nominating their employees for scholarship awards to support the completion of a degree or certificate.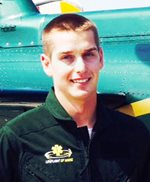 Kyle Santosuosso, Flight Paramedic, nominated by LifeFlight Executive Director Thomas Judge, received a 2016 Next Step Maine Employee of Promise Scholarship to support his pursuit of a bachelor's degree in Emergency Medical Services (EMS) Management at Anna Maria College.
Next Step Maine Employees of Promise Scholarship is part of the Maine Development Foundation (MDF), a private, non-partisan membership organization that drives sustainable, long-term economic growth for the state of Maine. MDF's strategic focus is a productive workforce.
Santosuosso, who currently holds an associate's degree in paramedicine from Southern Maine Community College, is pursuing a bachelor's degree to learn more about the field of EMS, both nationally and internationally. Originally from Sanford, Kyle has worked as a paramedic for five years and spent the last two as a flight medic with LifeFlight. His position at LifeFlight provides a good launching platform for his future endeavors because not only does he have access to advanced knowledge in emergency medicine, but he also interacts with EMS agencies everywhere in Maine. With this unique viewpoint, Kyle can see what the EMS system's existing needs are and how those needs might change in the future. This information, together with the degree, will inform the work Kyle hopes to do to increase the educational level of current paramedics and build a stronger EMS system for patients in Maine.
The Next Step Maine program is a free statewide initiative that awards funds to Maine employees who are currently pursuing a bachelor's degree, associate's degree or certificate program.  This year's recipients were selected from 40 employer nominations from a variety of Maine companies and many educational institutions.
"We are extremely pleased with the progress the Next Step Maine program is making to help Maine's workforce continue with their education and training," said Yellow Breen, president of Maine Development Foundation. "There were double the number of applicants compared to last year and we raised $35,600 for scholarship funds, which is double from last year, as well."
Maine Development Foundation announced earlier this month that $35,600 has been awarded to 28 Maine employees for a 2016 Next Step Maine Employee of Promise Scholarship.
The 28 awardees, their employers and family members, were honored this past Friday, June 10th at the Annual Next Step Maine Scholarship Recognition event in Augusta.
Next Step Maine received donations and grant support from the Bangor Savings Bank, Cianbro, Maine Chapter Association for Talent Development, Maine Community Foundation, Nellie Mae Education Foundation, Pratt & Whitney, Renys, Saint Joseph's College, and SHRM Maine State Council.
About the Program: Since 2013, the Next Step Maine program has contributed more than $63,900 in scholarships and helped more than 50 Maine employees attain advanced education in their field. Recent alumni of the program have experienced success in a variety of ways, including pay increases, promotion and career advancement. The goal of the Next Step Maine scholarship program is to support and recognize working adults who are going to school while managing jobs, families, and other responsibilities. To learn more about Next Step Maine and how to become a Next Step Maine employer, please visit www.nextstepmaine.org.
About Maine Development Foundation: MDF is a private, non-partisan membership organization that provides leadership, trusted research, and creative partnerships to enable Maine business, community and policy leaders to drive Maine's long-term economic growth. Created in statute in 1978, the nonprofit 501(c)(3) corporation works statewide across all sectors. MDF includes more than 250 statewide members including business people, educators, government officials and community leaders that are passionate about Maine's economy. MDF provides a common ground for leaders to discuss and act on issues affecting Maine's economy. Learn more at www.mdf.org
About LifeFlight of Maine: LifeFlight is an independent 501(c)(3) non-profit air medical and critical care transport organization. LifeFlight brings lifesaving critical care staff and equipment directly to the patient via helicopter, airplane and ground ambulance. It also provides advanced emergency medical training to Maine's hospitals, emergency medical services (EMS) and public safety agencies. Overseen by 25 physicians, LifeFlight cared for nearly 1,800 critically ill and injured patients last year. Since its inception in 1998, LifeFlight has transported more than 20,000 patients from every hospital and nearly all of Maine's communities and islands.