CAMDEN – United Mid-Coast Charities (UMCC) awarded $547,000 to 58 nonprofit organizations in Knox and Waldo Counties during a check presentation ceremony in Rockport.
The event began with a tribute to outgoing UMCC President Steve Crane, who has shepherded the organization for the past two years.
"Steve has been instrumental in helping UMCC re-establish a solid foundation for our continued support of service agencies in Knox and Waldo counties," said UMCC President John Viehman. "His wise and able leadership also opened the door for renewing the vision and creating a bright future for our organization. We are deeply grateful and all of us are better off for what he has given to UMCC."
Each year, UMCC conducts a rigorous application and review process for non-profit agencies that provide social services for all ages, educational programs and medical care.
Gifts from UMC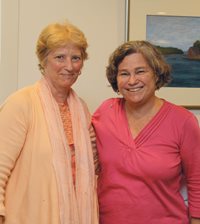 C, along with those from towns and other general support from across the state contribute significantly to LifeFlight's ability to operate. Gifts supplement patient care revenues to help pay for aircraft, clinical care staff, training and medical equipment among many other costs. In return, LifeFlight answers every (medically necessary) call it can without regard to a patient's ability to pay.
The following service agencies received funds from UMCC this year:  American Red Cross Mid-Coast Chapter, The Apprenticeshop, Area Interfaith Outreach, Belfast Area Child Care Services, Belfast Public Health Nursing Association, Belfast Soup Kitchen, Big Brothers Big Sisters of Mid-Maine, Broadreach Family & Community Services, Camden Area Christian Food Pantry, Expanding Opportunities: Camp Forest, Care Partners, Coastal Family Hospice Volunteers, Coastal Opportunities, Come Spring Food Pantry, Cornerspring Montessori School, The Game Loft, Habitat for Humanity of Waldo County, Herring Gut Learning Center, Home to ME, Hospice Volunteers of Waldo County, Knox County Homeless Coalition: Hospitality House, Kno-Wal-Lin Home Care & Hospice, Knox County Health Clinic, LifeFlight Foundation, Literacy Volunteers of Waldo County, Maine Family Planning, Make-A-Wish® Maine, MCH Meals on Wheels, Merryspring Nature Center, Midcoast Habitat for Humanity, Midcoast Recreation Center, MONEY Athletic Foundation, New Hope for Women, OUT As I Want To Be, Partners for Enrichment, Penobscot Bay YMCA, Peopleplace Cooperative Preschool, Restorative Justice Project of the Midcoast, Rockland District Nursing Association, Sixty-Three Washington St., The Soap Closet, Saint Bernard Soup Kitchen, Station Maine, STRIVE Northern New England, Tanglewood 4-H Camp & Learning Center, Teen & Young Parent Program of Knox County, Trekkers, University College at Rockland, Vinalhaven Eldercare Services, Vinalhaven Fuel Fund, Waldo Community Action Partners, Waldo County Dental Care, Waldo County Home Health Care & Hospice, Waldo County YMCA, Waterfall Arts, Waterman's Community Center, Wayfinder Schools: Passages Program, and Youth Arts.
IN THE PHOTO: LifeFlight Senior Development Associate, Holly Miller (left), accepts the donation from UMCC Board Member Joan Phaup. Fun fact: Joan personally supported LifeFlight earlier this summer when she participated in the organization's signature fundraising event, the Islesboro Crossing.