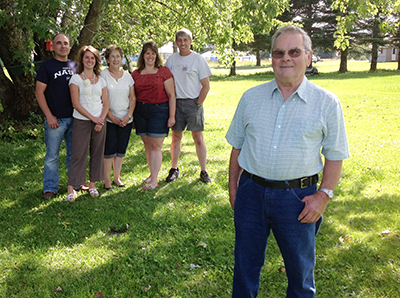 There are a handful of LifeFlight calls each year in which the patient is so critically ill, the crew must bring to the table every piece of equipment, all the newest technology and the vast majority of their training and experience. This call to Northern Maine Medical Center in the fall of 2012 to help Eagle Lake resident Gene Lavertu was one of them.
Coincidentally, LifeFlight was already in Fort Kent that day for a local celebration to thank the community for several donations made recently to purchase specialized medical equipment. There is no better example of the impact these donations have on patient care than this trip. Without the specialized equipment the flight crew used to care for this patient, the results would have been much, much different.
Gene had been walking his dog, Buddy, in his hometown earlier that morning when he became short of breath and had to sit down. His breathing continued to worsen so a neighbor called 9-1-1.  When the local ambulance assessed his condition, they quickly called for a more experienced ambulance crew from NMMC to meet them enroute. Once Gene arrived at the emergency department, physicians initially diagnosed severe respiratory failure based on his symptoms. They placed a breathing tube and requested LifeFlight transport him to Eastern Maine Medical Center in Bangor.
The flight crew grabbed their equipment, including a specialized ventilator, monitor, handheld blood analyzer, IV pump and medication bag, and headed to the emergency department. They prepared the patient for the helicopter transport and just as they were walking out the door, Gene's heart stopped. Though it took several minutes of resuscitation efforts, his heart finally regained a normal rhythm. In an effort to avoid additional cardiac arrest, the physician inserted an internal pacemaker and the flight crew placed an arterial line, which allowed them to continuously monitor Gene's blood pressure. Throughout the process, the team used the handheld blood analyzer to evaluate Gene and make immediate adjustments to his care.
"We tell people we're a flying intensive care unit and this call was a good example of that. We used every piece of equipment we carry; pulled out every tool in our tool box to help Mr. Lavertu," explains Flight Nurse Steve Babin. "Every piece of equipment makes a difference in patient care. For example, our iStat, which is a handheld blood analysis tool, told us he needed calcium to help his heart beat better, and that we needed to adjust the venitlator settings to improve his oxygen levels. We placed an arterial line which is the best way to monitor an unstable patient's blood pressure, and the internal pacemaker inserted by the emergency physician ensured Mr. Lavertu's heart kept beating."
The flight crew, together with the emergency department staff at NMMC, worked for more than two hours to stabilize Gene and keep him alive for the 66-minute flight from Fort Kent to Eastern Maine Medical Center in Bangor. Things were so dire that at one point a priest was called to perform the traditional last rites ceremony.
Incredibly, Gene's heart finally returned to a more regular rhythm and he became stable enough to be flown to the waiting cardiac surgeons at EMMC. They put a stent in Gene's severely weakened heart, but needed to wait for his heart to regain some strength before they could perform a much needed bypass. The next five months were difficult, with several more episodes of congestive heart failure, until they couldn't take the chance of waiting any longer. Gene underwent bypass surgery in February 2013.
Not only did he survive, he feels better than he's felt in years. It turns out that his heart disease had been misdiagnosed for years as asthma. Today he's back to daily walks with Buddy, and enjoying time spent with his family, friends and neighbors.
CREW MEMBERS:
Pilot Dave Burr
Medic Kalem Malcolm
Nurse Steve Babin