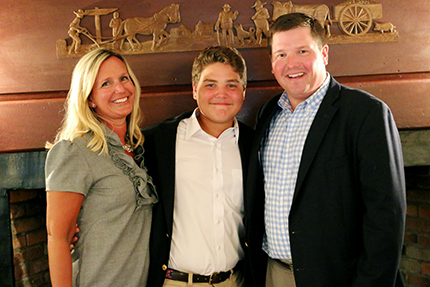 In a rural, sparsely populated state like Maine, access to critical, emergency care is an ongoing challenge. Smaller community hospitals rely on knowledgeable emergency room staff and a strong EMS system to recognize seriously ill or injured patients and transport them to the closest specialty medical center.
Fourteen-year-old Walker and his father, Chris, were skiing at Saddleback in Rangeley on a day when most trails had a very hard, compacted surface following an overnight rain. Walker was an accomplished boarder, but toward the bottom, in a relatively flat section, his board caught an edge and he went down hard.
Walker indicated he didn't need ski patrol to come get him, but would go to the clinic to get checked out when he got to the bottom. Because he had been traveling quite fast and the surface was so hard, both the ski patrollers and the local paramedics were worried that he could have suffered an internal injury so they decided to take him to Franklin Medical Center in Farmington for a CT scan.
The scan revealed a severely ruptured spleen that was causing serious internal bleeding. The emergency physician knew that Walker needed to be in a trauma hospital, and he wasn't at all sure that he would survive the nearly two-hour trip by ground. Instead, he chose to call for LifeFlight to transport Walker. Not only would the helicopter get Walker to a trauma center equipped to treat him much faster than a ground ambulance, but the flight crew had the experience and the tools necessary to care for Walker on the way. In addition, LifeFlight carries blood on board, which is often critical for a patient like Walker who is bleeding internally.
Walker spent three days in the ICU at Maine Medical Center and another few days recovering at Barbara Bush Children's Hospital. He was discharged with strict orders for no contact sports for six months. Today, Walker's back to playing hockey and enjoying time on the mountain with his family thanks to the strong and effective emergency medical system throughout Maine, tied together by the speed and expertise of LifeFlight.