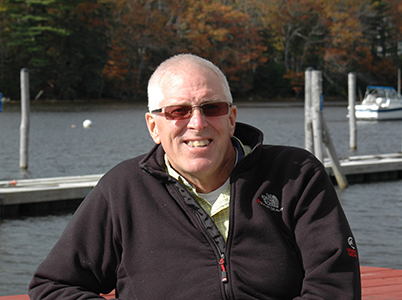 Ellsworth resident Mark Remick has always felt his life's mission was to be a public servant. For 20 years, he served his community as a police officer, firefighter and paramedic. He was an active member of the Rotary Club. He enjoyed being a part of the positive aspects of a community. But then something happened that forced him to start down a new path.
Last February, Mark was walking with his daughter near their home about 10 miles from the nearest hospital. He felt a sharp pain in his chest and initially brushed it off as a simple case of heartburn. He realized something else was wrong when he began to get very cold and clammy. His daughter drove him to the emergency department at Maine Coast Memorial Hospital in Ellsworth where physicians consulted with a cardiothoracic surgeon at Eastern Maine Medical Center in Bangor. As doctors worked to determine the cause of Mark's symptoms, his body went into shock and his condition continued to deteriorate.
A CAT scan revealed Mark had suffered an aortic dissection, a life-threatening situation where the walls of the major vessel leaving the heart begin to separate. Without immediate emergency surgery by specialists at EMMC, this condition would prove rapidly fatal. LifeFlight was Mark's best hope for getting to the operating room in time to survive the impending rupture.
Flight Nurse Doug Chappelle and Flight Paramedic Joe Moore had been advised of Mark's diagnosis and deteriorating condition while enroute. They knew speed would be the critical factor in a positive outcome for him. When the flight crew arrived, they calmly set about preparing the patient for his flight. With his care already well in hand, the helicopter was airborne again less than 25 minutes later.
When Mark arrived at EMMC, the crew took him directly to the operating room where cardiothoracic surgeon John Klemperer, MD and his team were waiting. In an operation lasting 9 hours, Dr. Klemperer was able to replace Mark's aorta and valve, giving him a new lease on life.
Back home, surrounded by his wife, six kids and two grandchildren, Mark feels a deeper appreciation for his family and his community.
"I've lost the ability to have a bad day," Mark explains. "Though I'm no longer able to serve my community in emergency services, I'm looking forward to discovering my life's new mission."
As he gazes out at his currently empty mooring in Union River Bay, the twinkle in his eye suggests this new mission will include his recently purchased boat and lots of whale watching.