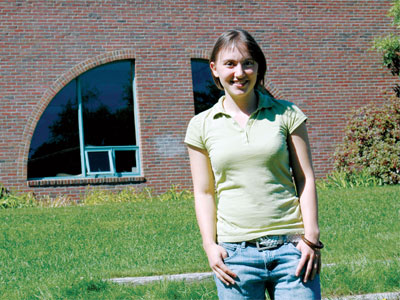 Sarah Mueller is a sophomore at the University of Maine at Farmington where she is studying to be a high school English teacher. This spirited and positive 18-year-old is not accustomed to inactivity, so last summer was difficult for her. She spent much of it in the hospital and in rehab, recovering from a nearly fatal accident.
Sarah was on her way back to school one evening in May when she was involved in a serious car accident. When the 9-1-1 call came in reporting a head on collision in Mercer, Everett Flannery III, a paramedic from Redington-Fairview EMS, knew that transport time could be a major issue in this serious accident. So right away he called for additional ambulances, and then made the call for both LifeFlight helicopters to be dispatched. A decision that likely saved Sarah's life.
When he arrived on scene, he found Sarah unconscious and trapped in her vehicle with multiple injuries, including a head injury, chest trauma, multiple long-bone fractures, and several other serious fractures. Rescuers worked for 20 minutes to extricate her from the car. Once she was in the ambulance, paramedics worked to stabilize her and secure her airway. Worried she would not survive much longer, they radioed the inbound LifeFlight crew to update them on Sarah's precarious condition, and to help them prepare for immediate intubation and blood administration.
When the flight crew arrived, they quickly medicated Sarah in order to place a breathing tube. She was then taken to Central Maine Medical Center, where she remained in a medically-induced coma for nearly 10 days. She spent six more weeks recovering in the hospital before being discharged. With only a few lingering problems (achy bones, fatigue, and some minor memory problems), Sarah is ready to get back to her normal life.  A power lifter, Sarah has started competing again, and plans to participate in a three-day fundraising bike ride across Maine.
CREW MEMBERS
CommSpec Jonathan Roebuck
Pilot Dennis Small
Nurse Martin Blaney
Paramedic Jared Miller