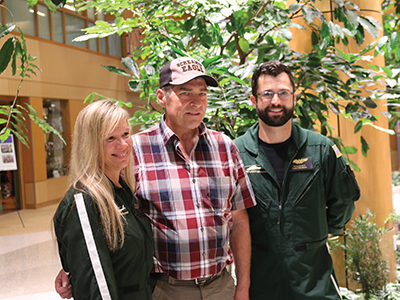 Ellsworth resident Ralph Edgecomb has worked hard all of his life. Born and raised in the tiny, rural community of Mariaville, Ralph has spent most of his career operating heavy equipment in Hancock County. His connection to LifeFlight began a few years ago when he was flown from Maine Coast Memorial Hospital to Eastern Maine Medical Center in Bangor. In typical small-town fashion, Ralph had helped to build the new helipad at the hospital just months before he became one of the first patients to use it.
But it was about five years later that he encountered LifeFlight again. Ralph found himself back at Eastern Maine Medical Center in Bangor, struggling to recover from complications after aortic heart valve surgery, and needing to receive more specialized care from a cardiac team in Boston.
Flight Nurse Missy McCann remembers Ralph as one of the sickest patients she'd ever treated. He was hooked up to nine IVs, and had a tandem heart device that oxygenated his blood for him in order to give his weakened heart and lungs time to regain strength and function.
Though often seen as simply a really fast ambulance, LifeFlight also provides a high level of care to the patients we transport by helicopter, airplane and ground ambulance. At EMMC, Ralph was receiving complicated cardiac care that required expertise and specialized equipment, and he needed to continue to receive that same level of care during his transport. With its knowledgeable, experienced crew, and advanced equipment, LifeFlight is essential for patients like Ralph.
After spending nearly six weeks with specialists in Boston, Ralph was sent back to EMMC to undergo a lengthy rehabilitation process. Ralph pushed through his long recovery with sheer determination. His first grandson was only 6 months old when Ralph got sick, and he often thought of his family during his roughest days in the hospital. Since his hospital stay, he's been blessed with twin grandkids and his son got married. With his close-knit family as a strong motivator, he shed 50 pounds and quit his cigarette habit. Today Ralph feels great. He likes to say, "you only live twice," and he lives each day as if it's his last.