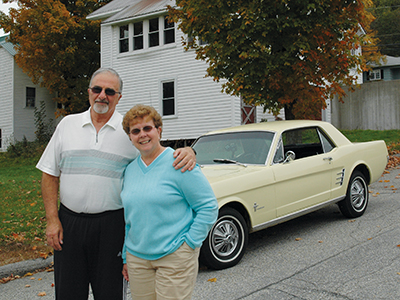 You might say Frank Anastasio believes in fate.  Or maybe luck.  However you want to look at it, everything just seemed to fall into place for Frank in the fall of 2012.
Frank was born and raised in Rumford.  He grew up in the same neighborhood where he lives now, hanging out with friends that he still see today, including his wife, Cheryl, who he taught to ride a bike when she was 8.  Frank served in the Air Force for more than 20 years, and when he retired the couple moved back to their hometown with their son, Marc.
Frank had just given the eulogy at a close friend's funeral when he began to experience severe chest pains. Thankfully, he and his wife, Cheryl, were practically next door to Rumford Hospital.  Another 15 or 20 minutes and they would have been at the cemetery in Peru, much farther away from help.
Cheryl helped Frank out of the car and into the emergency department, where the staff took one look and knew right away he was having a heart attack.  Dr. Justin Bennett, a newcomer to the hospital, used a new technology to get massive amounts of clot buster into his system as quickly as possible.  An ambulance crew from Jay was coincidentally on scene already, so Dr. Bennett decided a ground ambulance trip would be the quickest way to get Frank, who was relatively stable, to the cardiac center at Central Maine Medical Center in Lewiston.
However, as they were wheeling him out the door, Frank's heart suddenly stopped. Fortunately, he wasn't halfway to CMMC in the back of the ambulance.   Dr. Bennett quickly revived Frank and brought him back into the ER.  Worried that his heart could stop again at any moment, Dr. Bennett called for LifeFlight to pick up Frank.
As luck, or fate, would have it, the Bangor LifeFlight helicopter was already in the air, having just left Maine Medical Center. The pilot promptly set a new course for Rumford. When the flight crew arrived just a few minutes later, they helped to stabilize Frank and alerted the cath lab at CMMC.
By the time the aircraft touched down at CMMC, the crew had re-started Frank's heart two more times. They took him directly to the cath lab where Dr. Nicholas Laffely discovered his left arterial descending artery was completely blocked.  The artery was opened and a stent was inserted.
Thanks to the timely care he received from Rumford Hospital, LifeFlight and CMMC, Frank was back home just 2 days after his heart had stopped three times.
An avid golfer, Frank walks 18 holes nearly every day, a practice that probably helped ensure a very speedy recovery. The nurses at cardiac rehab are amazed at how far he's come in such a short time. And not a moment too soon for Frank.  He was eager to get back to his very active life.  Since his retirement from the Air Force, Frank and Cheryl have focused on enjoying every moment life has to offer.  They bought a 1966 Mustang which they take to cruise ins and car shows, they travel often to Virginia and Prince Edward Island, go dancing, watch sports and spend many hours gardening.
Frank sums up his philosophy this way, "I think you should have fun in life, and I'm going to keep doing that.  I've got a lot of years of golf ahead of me."
CREW MEMBERS
CommSpec Terri Smith
Pilot Dave Beaulieu
Nurse Jay Fonseca
Medic Jon Tierney