Helicopter Association International (HAI) announced in December that Jonathan "JR" Roebuck, remote access project manager for Lifeflight of Maine and MedComm, is the 2018 winner of HAI's Salute to Excellence Airbus Helicopters Golden Hour Award.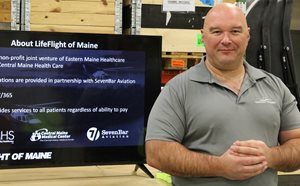 The award will be presented in March at HAI's Salute to Excellence Awards Dinner at HAI Heli-Expo 2018 in Las Vegas, Nevada.
Roebuck is being honored for his work in the creation of the Remote Access Project. Quickly locating and evacuating critically ill and injured patients in the remote areas of Maine is essential to survival.
With an extensive Atlantic shoreline, hundreds of coastal islands, dense forests, mountains, and extreme temperature, LifeFlight of Maine operates in one of the most complex aviation environments in the country. In many cases, it previously took up to eight hours for a patient to reach a hospital.
Roebuck oversaw the creation of more than 120 remote access landing zones (LZs), all on private land, that provide sites where helicopters can land to assist in rescue operations. In dire situations, minutes literally make a difference between life and death, and the Remote Access Project LZs provide helicopters with space to land in remote areas.
The importance of the LZs was proven during the rescue of an injured snowmobiler. The patient, a woman, had crashed her snowmobile into a 40-foot ravine and sustained critical injuries. Following the 911 call, responders dispatched a helicopter to the nearest Remote Access Project LZ, changing the destination during flight as more information became available. The LifeFlight of Maine helicopter landed just 50 yards from the patient, carrying vital emergency supplies.
This would not have been possible if it were not for the strategically placed Remote Access Project LZ.
Flight nurses treated the patient during the flight to the hospital. The patient survived the horrific ordeal, and has returned to work and snowmobiling.