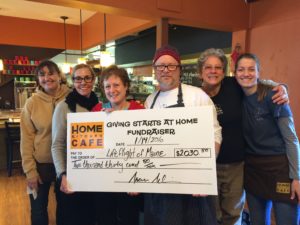 Five years ago, Rockland husband and wife restaurateur team James Hatch and Susan Schiro implemented a yearly fundraiser called " Giving Starts At Home." At that time Home Kitchen Café, a breakfast and lunch restaurant, was only a year old and they never imagined how this event would grow.
Their goal was to give back to the community where they have lived for the last 25 years. The Giving Starts At Home fundraiser is held the weeks between Thanksgiving and Christmas. Customers are enticed to make five dollar donations to benefit two nonprofits that are chosen by the restaurant. These donations give customers the opportunity to add their names to a weekly drawing for a $50 Home Kitchen Cafe gift card.
"The amount of money raised is greatly dependent on the commitment of our wait staff because they have the most interaction with patrons," explained Schiro. "We have an amazing staff and this year they put us over the top and helped raise $4,601 which is double last year's total."
For the last couple of years, the restaurant has chosen more than one charity to share these funds. Beneficiaries this year were Midcoast Habitat for Humanity and LifeFlight of Maine. Funds presented to LifeFlight will go directly to support the organization's campaign for a third helicopter.
"Right now, we receive more calls for help than our two helicopters can answer," explains LifeFlight Executive Director Thomas Judge. "Putting a third helicopter online to help cover the southern half of the state will mean hundreds more patients will receive the critical care they need, when they need it."
PHOTO: LifeFlight Development Director Amy Root (second from left) accepts the Giving Starts at Home donation from Rockland-based Home Kitchen Cafe staff, including owner Susan Schiro (third from left) and owner/chef James Hatch (fourth from left).
"LifeFlight is an organization that really is woven into the fabric of Maine," adds LifeFlight's chief fundraiser, Amy Root. "The aircraft and crew are there for the people of Maine 24 hours a day, 7 days a week. So when a local community comes together to show this kind of support, not only does it help LifeFlight reach its financial goals, it's also an inspiration to the crew and patients."
Hatch and Schiro feel fortunate to be part of the business community in midcoast Maine. They would like to extend a huge thank you to everyone who donated and helped make their yearly fundraiser a huge success.
"We have the best staff in the world and they helped us exceed all expectations," said a grateful and inspired Schiro.