Pennsylvania resident Jimmy Lankford takes his wife and two kids on a surprise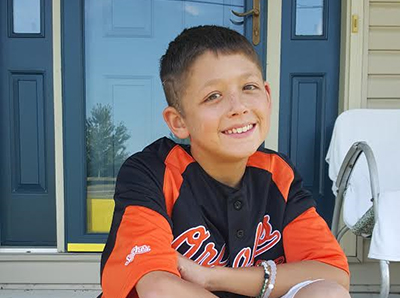 vacation every year. He does all the planning in secret, only telling his family what day to meet him in the RV. In 2016, the destination was Bar Harbor, Maine.
Eleven-year-old Nathan hadn't been feeling well for a few days, but after an exam and blood tests at the local emergency room, he was cleared for travel. Doctors thought his headaches and nauseau would subside soon, but after a day at the campground in Bar Harbor, Nathan seemed to be getting worse.
His parents took him to the emergency department at Mount Desert Island Hospital. Although their first impression was, "Wow. So small!" it quickly became clear that they were in the best place for Nathan. The emergency medical staff did a CT scan and found a large mass on Nathan's brain.
Because the team was concerned about his mental status and his respiratory drive, they called for LifeFlight to transport him to Eastern Maine Medical Center in Bangor. There, physicians determined that Nathan required highly specialized treatment from both a pediatric neurosurgeon and a pediatric oncologist. They called for LifeFlight to transport Nathan once again, this time via airplane to Johns Hopkins Hospital in Baltimore.
After two brain surgeries, Nathan's prognosis was very good. It turns out that he had a rare bacteria that formed an abscess in his brain. He had to refrain from sports during his recovery, but today, he's back to his active life and cheering on his Baltimore Orioles.