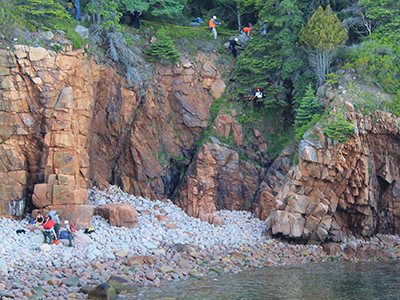 Coastal mountains, rocky shoreline, unspoiled rivers, vast expanses of undeveloped forests. Maine is well known for its natural resources and the recreational opportunities they provide. What people might not think about is what happens when things go wrong in these hard-to-reach places. Montana native Neala Fugere found out the hard way after a climbing accident in Acadia National Park.
23-year-old Neala had just graduated from the University of Montana with a degree in parks and recreation management and was working in Acadia for the summer. Neala has always enjoyed spending time outdoors. She started climbing at a young age and was hoping to learn belay techniques during her time in Acadia. After she and a friend finished climbing the Beehive Trail one sunny afternoon, they cruised around the park looking for a good spot to practice bouldering.
They found what they were looking for in Monument Cove and Neala started scrambling up the face of the cliff. Focused on the physical challenge of bouldering and lost in the tranquility of her environment, Neala didn't realize how high she had climbed. Just about the time her friend called for her to start back down, Neala's fingers slipped and she plummeted nearly 30 feet to the rocks below.
Rescuers and emergency medical providers in rural Maine collaborate and practice often for this kind of crisis. There were a lot of people around the area, so it didn't take long for someone to alert the park rangers. As the rangers were responding to the accident, they requested assistance from the Mount Desert Island Search and Rescue as well as the Bar Harbor Fire Department.
In a fortunate coincidence, off duty flight paramedic and experienced mountain guide Jon Tierney was nearby and quickly pitched in to help. The site of the accident was difficult to access and required responders to rappel or scramble down to where Neala lay drifting in and out of consciousness.
Working like a well-oiled machine, members of the park service, fire department, search and rescue and Acadia Mountain Guides assessed and treated Neala's injuries while a request for the LifeFlight helicopter was made. The team loaded Neala into a rescue litter and began the slow process of raising it up to the top of the cliff.
Realizing Neala had already lost a lot of time during the evacuation process, LifeFlight pilot Joe Obremski scouted the area around Monument Cove for a safe landing zone nearby to save transport time. He found a suitable rock outcrop directly across the cove from the accident scene. As the flight crew reached the scene, Neala was cresting the top of the cliff and the rescue team handed her off to LifeFlight.
When Neala arrived at Eastern Maine Medical Center in Bangor, trauma surgeons discovered she had shattered the bones in her lower right leg and left ankle, fractured her skull and several ribs, punctured a lung, and suffered a broken collarbone and pelvis. She was in the ICU for the first few days and underwent three surgeries to repair her broken bones. In all, she spent nearly four weeks in the hospital before she could return home to Montana to complete her rehabilitation.
Neala and her doctors expect her to recover completely from her injuries. She can't wait to get back to hiking, skiing, climbing, kayaking and definitely plans a return trip to Maine.