YEAR ONE: LifeFlight is often called to help trauma patients like Dave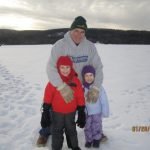 Dave Grant was 47 when his life changed dramatically. As he was waiting to turn into the convenience store for his morning coffee, a 40-ton tractor trailer plowed into the back of his SUV, crushing it completely.
Pinned inside the accident wreckage, Dave suffered multiple fractures to his ribs and spine, a crushed knee, life-threatening internal injuries and a major brain injury. The local ambulance crew rushed him to Franklin Memorial Hospital in Farmington, where they were met by the LifeFlight critical care team. "The teamwork of the emergency crew, the hospital staff and LifeFlight was phenomenal," recalls ambulance director Peter Wade. "Two Franklin physicians jumped into the back of the ambulance when we got to the hospital. They relocated and immobilized the fracture, then we rolled the ambulance around the corner to where the LifeFlight helicopter was waiting. It was literally a matter of a couple of minutes . . . the pilot never even had to shut the craft down."
Dave's rehabilitation lasted for months. But thanks to the local ambulance, hospital and LifeFlight crews, he was in the care of specialists at Central Maine Medical Center just 52 minutes after his accident, which gave him the best chance at a full recovery.
He was able to return to his job as a mail carrier about seven months after the accident. And just a few years after that, Dave became a proud grandfather. He cherishes the opportunities he has to watch his grandson play football and his granddaughter dance. They spend countless hours together as he teaches them to play the guitar and the ukulele.
YEAR TWENTY: The need has evolved to include more critically ill patients like Ralph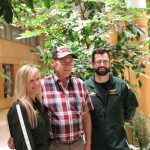 Ralph Edgecomb was at Northern Light EMMC in Bangor, struggling to recover from complications after aortic heart valve surgery. Though he was already receiving complex cardiac care, his doctors knew he needed even more specialized treatment in Boston. Hooked up to nine IVs and a high-tech tandem heart device, Ralph's only option was LifeFlight. With its knowledgeable, experienced crew and advanced equipment, LifeFlight is essential for patients like Ralph.
Flight Nurse Missy McCann remembers Ralph as one of the sickest patients she'd ever treated. In addition to all of the medication he was receiving through IVs, he was also on a tandem heart device. This complicated piece of medical equipment uses a pump to circulate blood through an artificial lung and back into the bloodstream of extremely sick patients in a process known as extracorporeal membrane oxygenation (ECMO).
The flight to Boston was a success, and after spending nearly six weeks with specialists in Boston, Ralph was sent back to NLEMMC to undergo a lengthy rehabilitation process. He pushed through his long recovery with sheer determination and, with his close-knit family as a strong motivator, he shed 50 pounds and quit his cigarette habit. Today Ralph feels great and lives life to the fullest.