The accident the week before turned out to be just an omen, though at the time it seemed pretty serious. Someone ran a stop sign and totaled the van he used in his business installing satellite systems. He walked away unhurt, but he had to rent a truck to keep his business going while he worked through the insurance process.
Michael Fernald has lived in the Fairfield area most of his life. He worked for DirecTV for years before he opened his own business with his son, Mikey Jr. The two of them were on their way to a job site in the rental truck when, unbelievably, he was struck again by someone who had run a stop sign. This time, however, he didn't walk away unhurt.
Mikey managed to climb out through the rear window, but his father was trapped and unconscious. While someone called 911, mechanics at a garage across the street arrived with tools to start cutting away the door and roof, in hopes of saving the paramedics' time. Delta Ambulance responded to the scene first, and received assistance from Fairfield Police and Fire Departments. Paramedics transported both Michael and Mikey to MaineGeneral's Thayer campus in Waterville, where physicians noted significant chest trauma, respiratory distress and a serious head injury. They realized Michael was going to need surgery and treatment at a major trauma center, so they quickly called for LifeFlight while working to stabilize him for transport.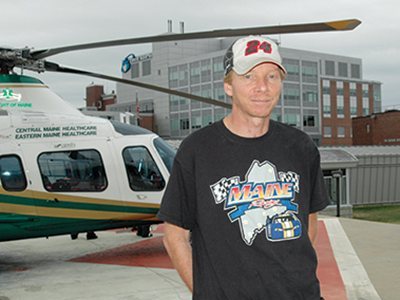 When the LifeFlight crew arrived, physicians had placed a breathing tube and two chest tubes in an effort to help Michael breathe. The flight crew loaded him onto the helicopter and set a course for Portland, but Michael's condition continued to deteriorate so rapidly, they made the decision to divert to Central Maine Medical Center in Lewiston. Before they got there, the flight crew had to perform additional chest decompressions in the aircraft because Michael's lungs had collapsed a second time.
Trauma specialists at CMMC found that, in addition to two collapsed lungs, Michael had also suffered multiple rib fractures, spine fractures, massive damage to his jaw, and a head injury. He remained in the hospital for a month while surgeons performed numerous operations to repair his broken back, jaw and ribs. Michael continues to receive physical therapy a couple of times a week, but his doctors are amazed at how quickly he has recovered. The steps taken by the paramedics at Delta, the nurses and physicians at Thayer, the flight crew and the trauma specialists at CMMC were all critical to Michael's full recovery. A fact which didn't go unnoticed by Michael's family, who honored everyone involved in the accident at a community benefit dinner.
Michael's wife, Diane, put it this way, "We are so grateful for the thoughtful and caring people who helped all of us through a very difficult time. It was so hard for me to have my son and husband in two different places, both in pain and feeling scared. The flight crew and the folks at CMMC did an amazing job keeping me informed and calm. They all went above and beyond their job description."
CREW MEMBERS
CommSpec Bill Yates
Pilot Pat Giarrizzo
Nurse Jackie Turcotte
Medic Jeremy Nadeau/Brad Boehringer