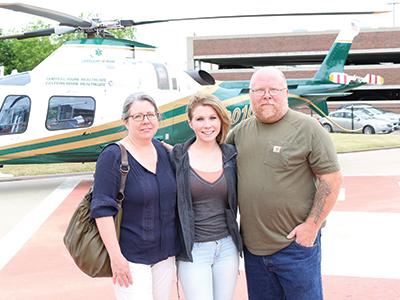 The Shraders were looking for a place to call home. Originally from Massachusetts, they wanted to move to a tight-knit rural community, and Maine was a perfect fit. They settled in Canaan with their seven kids and embraced small town life.
"There's something about Maine. It really becomes a part of who you are," explains mom, Amy.
The kids spend a lot of time exploring and enjoying their rural home. Activities like hiking, biking and skateboarding are common ways to pass a leisurely afternoon. Middle child Maddy had just finished a hike with her younger brother and sister when they spotted a newly-paved hill that seemed too good to pass up. In that carefree teenage way, she grabbed her brother's longboard from the trunk, hopped on and raced down the hill. She picked up speed faster than she expected, lost control and crashed near the bottom. Her siblings found her unconscious and immediately called for help.
The local ambulance service in Rome was on the scene in minutes and recognized Maddy was seriously injured—and far away from the care she needed. She was showing classic signs of a major head injury, so they quickly called for LifeFlight, loaded Maddy into the ambulance and took her to meet the helicopter at a nearby baseball field.
Flight medic Billy Stuart has a special fondness for Maddy. All of LifeFlight's crew members endure a lengthy and demanding orientation process when they are hired, spending several months under close scrutiny of veteran paramedics and nurses. Maddy was the first patient he cared for on his own as a full-fledged crew member. When Billy arrived, she was drifting in and out of consciousness and couldn't control her tongue. Billy placed a breathing tube to keep her airway secure and make sure she didn't stop breathing during the trip.
Often with a traumatic brain injury, internal bleeding creates massive pressure inside a patient's skull. What Maddy needed now was surgery to relieve the pressure.
Maddy's mom, Amy, was home when she got the call. Her daughter was seriously injured and was being LifeFlighted to Eastern Maine Medical Center. After Amy set out for Bangor she called her husband, Greg, who is a long-haul truck driver and was in Baltimore—a 10-hour drive from Bangor. As Greg started working with his company to get home as fast as possible, Amy fielded an urgent call from the trauma surgery team at EMMC. Maddy had arrived safely, but the pressure inside her skull was so great, she couldn't wait any longer. They needed Amy's permission to operate immediately.
The practiced surgeons at EMMC performed a craniotomy, removing a part of Maddy's skull to relieve the pressure until the bleeding stopped and the swelling went down.
Maddy was fully sedated for about 3 days, but as soon as doctors brought her out of it, things progressed remarkably fast.
"I'm sitting beside my daughter's bed at EMMC," Greg wrote on LifeFlight's Facebook page. "Critically injured, with a fractured skull and undetermined injury to her brain, LifeFlight had her here and in surgery in less time than it takes to change your shoes. Thanks to LifeFlight, we're making plans for physical therapy. If not for them, we'd be planning a funeral and I'd be broken for the rest of my life. Some debts just can't be repaid."
She was in the pediatric intensive care unit for about a week, and then stayed in the hospital for about one more week before she was discharged and continued her recovery at home. She required speech, occupational and physical therapy, but the biggest challenge was struggling with the debilitating headaches.
Less than two months after the accident, Maddy was able to start her job as a Certified Nursing Assistant at the local nursing home. She enjoys nursing so much that she's enrolled in the registered nursing program at Kennebec Valley Community College.
Her parents are grateful beyond words. "We have a big family and we like to joke around, but LifeFlight kept our family together. How do you thank someone for that?"