CAMDEN—Students and staff at Camden Regional Middle School recently hosted a basketball game to benefit LifeFlight. The 8th graders challenged the staff to a friendly, but competitive, game where the fans could buy points to help their favorite team to a victory.
LifeFlight patient (and former CRMS student) Molly Mann shared her story about being LifeFlighted after a ski accident, and then sang a beautiful rendition of the national anthem. At halftime, school custodian Steve Cerce told of his experience with LifeFlight when his daughter, Rae, had to be flown to Bangor after developing acute respiratory distress syndrome. Following Steve's story, LifeFlight patient Cheryl LeBlond and her son shared more gratitude for LifeFlight after she was transported twice for a rare heart condition.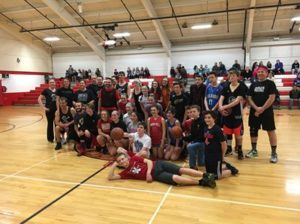 The game ended with the students coming out on top, 287 to 218. At the end of the night, the event raised $1,000 for LifeFlight.
LifeFlight of Maine is an independent 501(c)(3) non-profit air medical and critical care transport organization. LifeFlight brings lifesaving critical care staff and equipment directly to the patient by helicopter, airplane and ground ambulance. It also provides advanced emergency medical training to Maine's hospitals, emergency medical services (EMS) and public safety agencies. Overseen by 25 physicians, LifeFlight cared for nearly 1,800 critically ill and injured patients last year. Since its inception in 1998, LifeFlight has transported more than 22,000 patients from every hospital and nearly all of Maine's communities and islands.