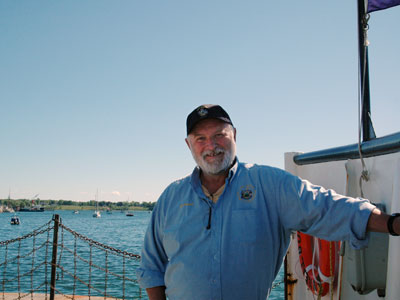 Ron Deveau was changing the fuel oil on the North Haven ferry after the last run of the day when he experienced the first signs of a heart attack. He began to feel nauseous, but thought he just needed a little fresh air. As an engineer on the ferry, Ron works for six days at a time and lives on the island during his shift.
He finished changing the oil and headed off the boat to the house he shares with other ferry workers. Before he got there, he began to feel pressure in his chest and became drenched in sweat. When he made it to the house, he told his coworkers he couldn't breathe. They took one look at him and called North Haven EMS, who arrived quickly and realized he was having a heart attack. Ron remembers them saying, "Hang in there. The helicopter is on its way."
John Dietter, WEMT-B, one of the first responders on the scene, recalls Ron's situation. "When I arrived on scene it was immediately clear that Ron was in very serious condition. He was bathed in sweat, had an elevated heart rate, and was complaining of crushing chest pain. I started him on oxygen and administered aspirin, which helps to block the formation of clots. Driver Jesse Davisson arrived with the ambulance and our AED/cardiac monitor. WEMT-B Elaine Ames-Brown and First Responder Louisa Baribeau arrived shortly afterwards. We made the call to LifeFlight after being on scene for less than four minutes. The combination of advanced care and rapid transport that LifeFlight can deliver was exactly what was called for in Ron's case. While the EMS team and Ron's fellow crew members loaded him on to a stretcher for transport to the landing zone, North Haven's Fire crew was busy setting up the LZ at the town's ball field. Nurse Practitioner Lise Desjardins met the team there and was able to administer nitroglycerin and morphine. The LifeFlight helicopter was on the ground in North Haven 28 minutes after we made the request."
Ron has been on the ocean for most of his life. Born in Nova Scotia and raised in Boston, he joined the Navy and was stationed in Maine before heading to Florida with the Merchant Marines. A few years ago, he returned to Maine to reconnect with his friends and to find that elusive balance between work and family. When he learned his son had cancer, he looked to his Catholic roots for direction and comfort. It turns out these roots also helped him through his own medical crisis.
As the EMTs loaded him onto a stretcher to transport him to the helicopter, Ron asked one of his coworkers to bring him his rosary. While he waited, he tried to focus on breathing. Once he had his rosary in hand, he kept it with him during the helicopter ride, in the emergency room, and even later in the intensive care unit. When Ron thinks back on that night, he can't help but see all of the little miracles that happened along the way to make his recovery successful.
Once the flight crew examined Ron, they realized he would need cardiac treatment as soon as possible. They contacted Eastern Maine Medical Center in Bangor and requested that a cardiac cath lab team be put on standby. When Ron arrived at EMMC, the cardiologist met him in the emergency department and transferred him directly to the cath lab where specialists placed four stents in Ron's heart.
"I was very well taken care of at Eastern Maine Medical Center. The nurses on the helicopter and at the hospital were extraordinary. The toughest job at LifeFlight must be choosing the 'Nurse of the Month,'" jokes Ron.
Since his surgery, Ron has lost 40 lbs and continues to exercise and attend cardiac rehab at Mid Coast Hospital in Brunswick. He was able to return to work as engineer on the ferry less than three months after his heart attack.