Ben Hayes' wife, Erin, fondly refers to him as an overachiever. He has two master's degrees. He likes to be challenged and solve problems. He's a workaholic and thoroughly enjoys his career in healthcare finance. He makes time to hang out with his 9-year-old daughter, Isabel.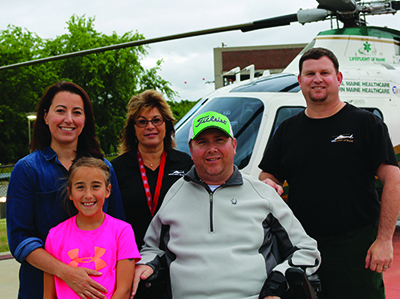 Because of a freak accident while goofing around with friends in 2007, Ben does all of this from a wheelchair.
Ben and Erin were spending time with friends at an annual Christmas party when the men in the group decided to end the evening with a "polar plunge" of sorts. It was a carefree moment; a last minute decision to do something silly and jump into a nearby snow bank. When Ben took his turn, he landed face down and didn't move. When his friend rolled him over, Ben said something was wrong and to call an ambulance.
When Ben and Erin arrived at Central Maine Medical Center in Lewiston, the emergency room staff recognized right away that Ben was going to need neurosurgery at Maine Medical Center in Portland. Because he was suffering from a spinal cord injury, he needed to get to MMC quickly, but he also needed to be kept as still as possible. LifeFlight was called and minutes later the flight crew arrived to prepare Ben for transport.
"I vaguely remember speaking to someone in a flight suit," recalls Erin. "He was doing his best to get information from me. I was in absolute shock, yet he was calm and reassuring, putting me completely at ease."
Because she trusted them, Erin was able to watch the crew put her husband on the helicopter, go home to change and hug her six-month-old daughter, and ride to Portland with her father.
"The entire time, I was calm. I knew Ben was safe and receiving the high level of care he needed."
Still, it was heart wrenching to hear from the spine surgeons at MMC that Ben was paralyzed. After nearly three weeks in intensive care, Ben was ready to tackle the long, difficult journey through rehabilitation. Both he and Erin are enormously grateful that he was able to receive care at one of the country's leading rehab centers, Shepherd Center in Atlanta.
"The people at Shepherd just have the best philosophy," explains Ben. "They asked me, 'What did you do before the accident? Ok. That's what you're going to do when you leave here.'"
After two and a half months of intensive therapy and hard work, fueled by Ben's unwavering determination, he returned home to Maine to rebuild his life. Eight months after the accident, Ben was back to work full time in his job as an investment analyst. He and his family try to live a normal life. He accompanies Isabel to father/daughter dances, loves the Red Sox and has shared lessons from his experience with medical students at the University of New England.
In a thank you letter to Ben's healthcare providers, Erin wrote, "Ben's neck injury rendered him a quadriplegic, but he is healthy and we are living a fairly normal and very productive, happy life. Our house happens to be along the flight path of the LifeFlight helicopter. The sound of the aircraft overhead used to make me cry, but now it gives me hope knowing someone is getting the care that they desperately need."