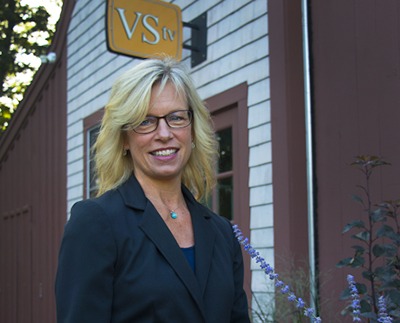 Life threw Nancy Nickerson, Rockport resident and mother of three, a curve ball one summer afternoon. She and her husband, Erik, were in a meeting when Nancy felt a pop at the base of her skull. It didn't hurt badly, but Nancy kept rubbing at it to try and ease the annoying discomfort while she talked. Then suddenly a wave of nausea swept over her and she found herself on her hands and knees on the floor.
An ambulance took her to Inland Hospital in Waterville where she was sent to radiology for a CT scan. When the results came back, emergency physicians were stunned to see blood covering nearly all of her brain. A massive aneurysm in Nancy's occipital lobe had ruptured, causing a severe subarachnoid bleed. She needed to be treated by specialists at Eastern Maine Medical Center in Bangor as quickly as possible, but with that much blood already putting pressure on her brain, physicians told Erik that they were skeptical Nancy would even survive the trip.
Emergency department staff immediately called for LifeFlight to transport Nancy to Bangor, a flight that would take less than 20 minutes.
"I didn't yet realize the severity of my situation," recalls Nancy. "I remember the experience as very peaceful. The crew was very gentle and kind, and I joked with them about my boys being jealous that I got to ride in a helicopter."
As the aircraft took off from the helipad at Inland Hospital, Erik had a different reaction. He distinctly remembers the feeling that this could quite possibly be the last time he saw his wife.
Nancy survived the trip to Bangor where waiting specialists performed major brain surgery to clip the hemorrhage in her occipital lobe. She spent the next week in the hospital recovering and then returned home. For a few months, she struggled with crowds and battled depression and anxiety, but eventually made a full recovery.
With a renewed zest for life, Nancy decided to pursue her lifelong dream of working in the television industry. She soon landed her dream job at a newly established local television company. Today, she works at a job she loves for about 12 hours a day. She exercises regularly to de-stress and spends most of her free time watching her boys play school sports or visiting her recently married daughter in Portland.