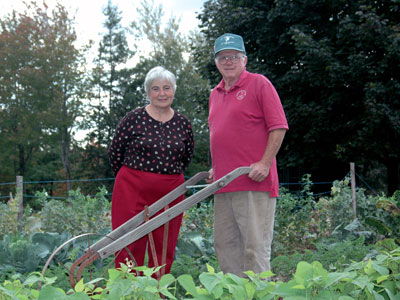 Stephen Hopkins was gathering wood and boiling sap at his camp last March when he became pinned between his tractor and a tree. The sap camp is a few hundred yards from his house, down over a hill in the woods. His wife, Sharon, had just started walking back to the house when she heard the noise and went back to investigate. When she saw her husband was in trouble, she ran up to the house to get help from their son, Stewart, who was able to move the tractor and free his father. By then, Stephen was struggling to breathe and turning blue. Fearing there was significant internal damage, Stewart called 911.
Just a few minutes later, two local ambulances arrived. The crew evaluated Stephen and prepared to carry him out to the ambulance parked at the house. It was a long walk back up the hill and out of the woods, with about two feet of snow still on the ground. This combined with the fact that Stephen's breathing continued to worsen, prompted the ambulance crew to call for LifeFlight. Members of the Dexter Fire Department then headed down the road about a mile to prepare a landing zone for the helicopter.
With all trauma victims, the first hour after the accident, often referred to as the golden hour, is the most critical time to receive appropriate care at a trauma center. The time it would take to carry Stephen to the ambulance and drive to the nearest trauma center in Bangor, added up to much more than one hour. By using LifeFlight, Stephen's chances of being treated at Eastern Maine Medical Center within that golden hour would be much improved.
The impact from the tractor had broken Stephen's collar bone and multiple ribs, and had crushed his lungs. When the LifeFlight crew arrived, Stephen was still struggling to breathe. His damaged lungs were allowing air to escape into his chest cavity and pressure was building on his heart. The flight crew relieved the stress through needle decompressions, and almost immediately Stephen's breathing, blood pressure and oxygen levels began to improve.
Stephen was in the ICU at EMMC for 19 days, including a week in a medically-induced coma. Once he woke up, it was several days before he could talk, so he relied on writing notes. With typical fierce Maine independence, most of his notes said things like, "take me home," or "where are my clothes." As soon as he was able, he did his best to escape, but the doctors moved him closer to the nurses' station to keep him from wandering. He was discharged almost exactly one month after his accident, and has since made a complete recovery.