Craig Bachand has been riding motorcycles since he was in high school. It's a passion, and one of the few activities that clears his mind and helps him relax. So on an early spring day in April, it was only natural that Craig was out for a ride in southwestern Maine. He was about 10 minutes from home, navigating a corner, when he was in a head-on collision with an oncoming car. Paramedi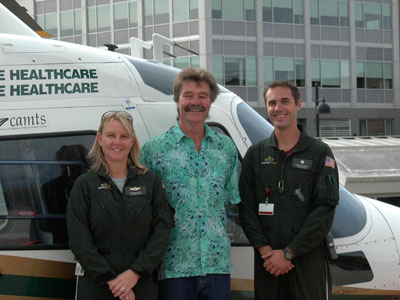 cs from PACE ambulance were the first ones on the scene. They found Craig conscious, but his vital signs were very weak and he was having trouble breathing. The EMTs suspected serious internal injuries, so they immediately called for LifeFlight of Maine. LifeFlight would be the fastest way for Craig to get to a trauma center where surgeons could get to work mending his injuries and controlling the bleeding.
When the LifeFlight crew arrived, Craig was still struggling to breathe. They suspected his lung had collapsed, and he was losing a lot of blood through massive internal injuries. They relieved the pressure in his chest with a needle and placed a breathing tube before they loaded him into the aircraft. During the flight, his blood pressure dropped dramatically and the crew had to give Craig a unit of blood just to survive the 10 minute flight to Central Maine Medical Center in Lewiston.
"Craig had some of the most serious internal injuries I've seen. He didn't have much time, and without the blood we gave him on the helicopter, I'm not sure he would have survived the accident," remembers Heather Cady, RN, the flight nurse who cared for Craig on the helicopter.
It turned out that Craig had several broken ribs, a collapsed lung, broken hip and severe damage to his spleen and stomach. He spent five weeks recovering at CMMC, four of it in the intensive care unit. After another three weeks in rehab, Craig was able to return home to Casco. There, with his wife, he continues his recovery, working toward the day when he can return to work full time building new homes and restoring historical buildings like the Portland Observatory to their former splendor.