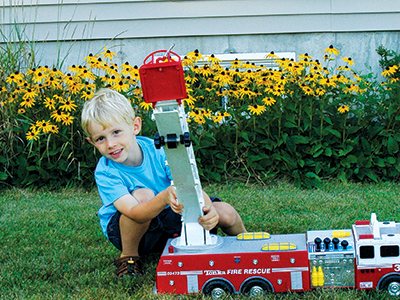 Young Johnathan Ramage was playing outside with his toy trucks while his father worked. As he went to find a different toy, he ran into the tailgate of his father's truck, whacking his head on the sharp corner. A few minutes later Johnathan threw up multiple times and began acting very lethargic. His father, a firefighter/paramedic in Portland for 12 years, recognized the signs of a more serious head injury.
He rushed his son over to MaineGeneral in Augusta, where doctors took one look and immediately suspected an arterial bleed was causing pressure on Johnathan's brain. They called the pediatric specialists at Maine Medical Center, who requested Johnathan be transported via LifeFlight.
The flight crew arrived in just five minutes, stabilized Johnathan and delivered him directly to the operating room at Maine Medical Center where surgeons were waiting. They stopped the bleeding and eased the pressure on Johnathan's brain. After two more days in the hospital, Johnathan was sent home with strict orders for no activity that involved physical contact. A tall order for a 3-year-old, but his parents baby-proofed the house all over again and Johnathan continued his recovery without incident. Today, he is a smiling preschooler who loves fire trucks, driving his mini Gator and writing in his journal at school.
CREW MEMBERS
CommSpec Bill Reynolds
Pilot John Scanlon
Nurse Sabrina Gowell
Paramedic Heather Cady