What did the last 20 years look like for you? For LifeFlight, 20 years seems like only minutes in the continuum of patient care we've provided to the many Mainers we transported over that time. From one helicopter and a small crew of clinical and aviation staff, we have grown to meet the need of rural health in Maine with four aircraft and more than 100 team members. We did it with you and because of you.
What did the last 20 years look like for some of our patients? Jackie Tyler was just 14 years old when she was hit by a car near her home in midcoast Maine and LifeFlighted to Bangor for lifesaving neurosurgery. In the years since the accident, Jackie graduated from high school, worked as a baker and is a married mother of four great kids. Marcy Bridges was pregnant with twins when she went into early labor and had to be flown to Portland for emergency surgery. For nearly 20 years, she has nurtured her twin boys, Evan and Trevor, and will soon watch them graduate from high school with lofty goals for the future. There are thousands of other Mainers who share similar stories. Your generous support makes life possible for Jackie, Evan, Trevor and so many others.
We are proud of the history of this organization, which has made second chances possible for Mainers since 1998. LifeFlight has always been on the leading edge of healthcare, aviation and critical care transport. The air medical environment is constantly evolving, improving patient outcomes with clinical training and education, and seeing advances in equipment technology. LifeFlight has consistently been at the forefront, recognized as a national leader in innovation, which leads to better outcomes for our patients, as well as safer and more reliable aircraft. You made it possible because of donations made to our efforts over the years.
What will the next 20 years bring? The future is never fully known but we do know that LifeFlight is dedicated to providing the next generation of Mainers with the best air medical and critical care transport possible. We are doing so with the support of people just like you who donate their time, talent and treasure. Thank you for making second chances possible for more than 26,000 patients—people of all ages, from every corner of Maine.
Onward to the next 20 years. We will do it together, because of and for you.
FY18 Reasons for Transport
FY18 Types of Transport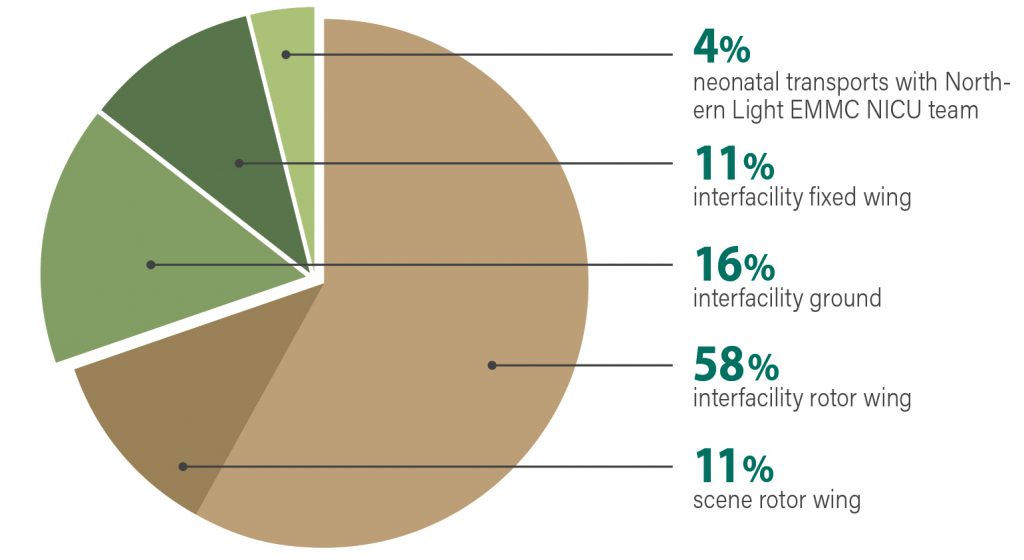 New Funds Raised FY18
These totals only include new donations, and not pledge payments from previous commitments, making them slightly different than the income figures on this page.