There were many people whose voices were instrumental in the early stages of LifeFlight's development. Though each one played a different role, they were all grounded in the common goal of improving access. Here are just three of those voices.
Norm Dinerman MD, Founding Medical Director

In Maine, we are always confronted with geography. We asked ourselves, "if geography is destiny, must it be determinative of healthcare outcome?" By improving access for critically ill and injured patients to progessively more complex levels of care, we mitigate the adverse influence of geography on healthcare outcome.
Initially, there was skepticism. While folks could appreciate that victims of trauma (car accidents, accidents from farming, forestry and fishing) might benefit, the reality was that we saw the greatest need for interhospital transfers—for patients who were already at a small hospital but needed a more complex level of care at a larger medical center. It is this linkage of clinicians, integration of assets and alignment of management plans which has enabled the continuity of care for the patient from one healthcare team to another. Ultimately, this has proven to be the most critical system design component of LifeFlight. Only the superb skills and clinical acumen of the air medical crew has made this possible. Their interventions enable us to tether all of the healthcare human and facility resources of the state together, leveraging the creativity of all, on behalf of the patient.
Larry Hopperstead MD, Founding Medical Director
One of the greatest contributing factors to the improved quality of care for critically injured trauma patients in Maine was the addition of emergency air ambulance transfer, provided by LifeFlight. The major incremental advantages that LifeFlight continues to bring are the critical care skills of its crew and the decreased time in transit to the end destination. In trauma, the time to definitive intervention is crucial to the saving of lives. When LifeFlight is involved, not only does the patient arrive at the trauma center sooner, but typically, because of the interventions that are a part of the LifeFlight crew's capability, they arrive there in more stable condition than when the transfer started.
Sandy Benton RN, Founding Bangor Base Manager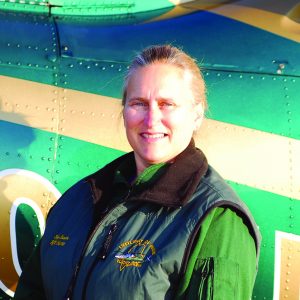 At the beginning it was always safety first. We had to ensure we would provide a safety first culture every day and have always worked to maintain that culture. In addition to safety, our goal was to provide access and deliver high-quality care in a reliable way, and overcome the distance and geography in Maine.
The front line people at LifeFlight have always been encouraged, and even expected, to be involved in the organization's development. LifeFlight became a company that was built by the people who work there. We laughed, we cried, we struggled, we overcame. We were very determined, and leaned on each other a lot to become an organization that functioned as one unit. The greatest stories we have are the successes of our patients— the outcomes. The best part is seeing how many of those people get to go home.